OS Maps
Quick start guide
1. Getting started and logging in
OS Maps is available in both a web version and an app which is available on the Google Play Store for Android and The App Store for Apple iOS (iPhone and iPad) devices. Using both the app and web is recommended for the best experience.
Sign in to the app or website using the account you registered in OS Maps or your OS Shop account.
If you don't have an account, create one for free or upgrade to Premium for all features. Your Premium account applies to both web and app versions, unlocking all features of both.
There's no need to log out between uses.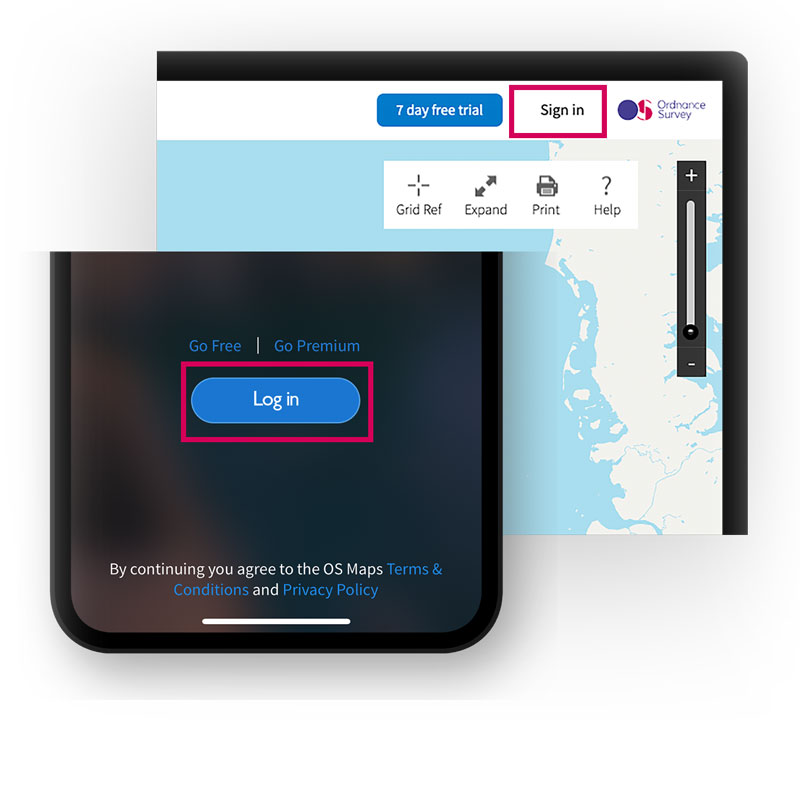 2. Searching for locations
There are a few ways to navigate around the map to find a location.
Click the 'Find me' button to find your current location. This requires GPS / Location Services to be enabled. A small red dot or arrow indicates your current location.

More information on location displays.
Search using the search box in the top for a town, village, postcode or Grid Ref. In the app, this will only work while you have a data connection.
To zoom in, double tap the map. On web you can also use the mouse scroll wheel or the zoom bar in the top right. On the app, you can pinch to zoom.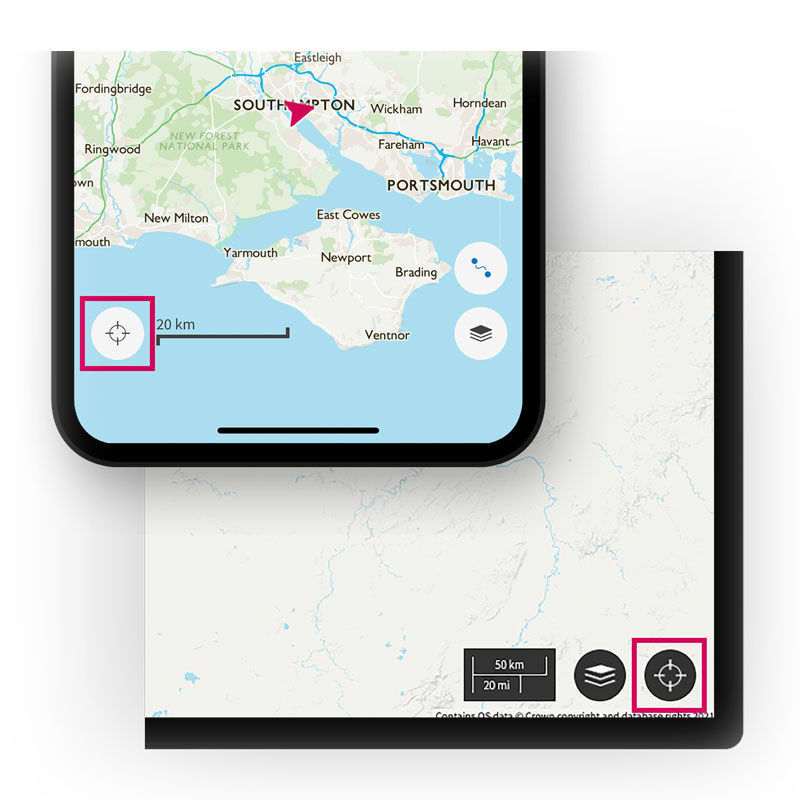 3. Changing map type
Switch maps with the layer selector button. OS Map types include:
Standard: a free, zoomable map, ideal for finding locations and planning on-road activities, particularly in urban areas.
OS Leisure Maps: (Premium Feature): Zoom in through our leisure maps including OS Landranger (1:50k) and OS Explorer (1:25k) mapping. The best scale is chosen automatically. In the app, you can choose to lock the map to 1:50k or 1:25k.
Aerial: high resolution, zoomable aerial imagery. Great for seeing more detail of the terrain and vegetation, or just to find your house.
National Park pathways / Offroad Routing: (Premium Feature): Highlights all paths, tracks, bridleways and roads in National Parks, enabling automatic snap to path route planning.
Greenspace: Highlights greenspaces for outdoor recreation.
Aerial 3D: (Premium feature, web only): View stunning 3D terrain, with or without your route line. Perfect for showing off how steep that track was!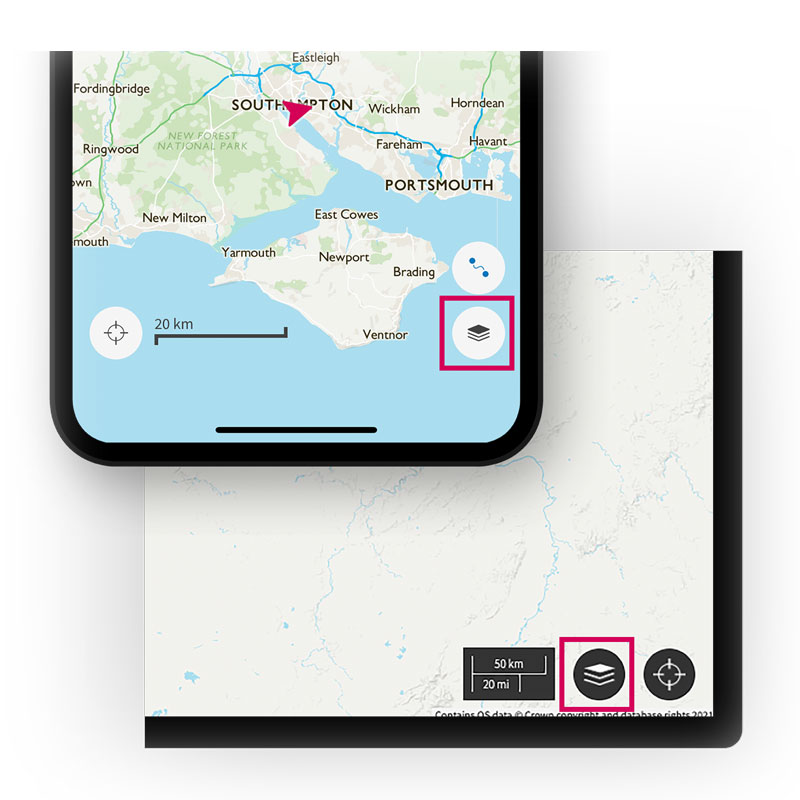 4. Aerial 3D maps
Aerial 3D mapping is available in the web version for Premium users. Select it from the map layers list.
Use the controls to adjust the view. You can adjust the height and view direction. You can also control the zoom with the zoom bar or mousewheel.
Control information, keys and short cuts can be found under 'Help' (top right).
Click the 'full screen' button to hide all menus and most controls for the best view. Hit escape and 'full screen' again to return to normal.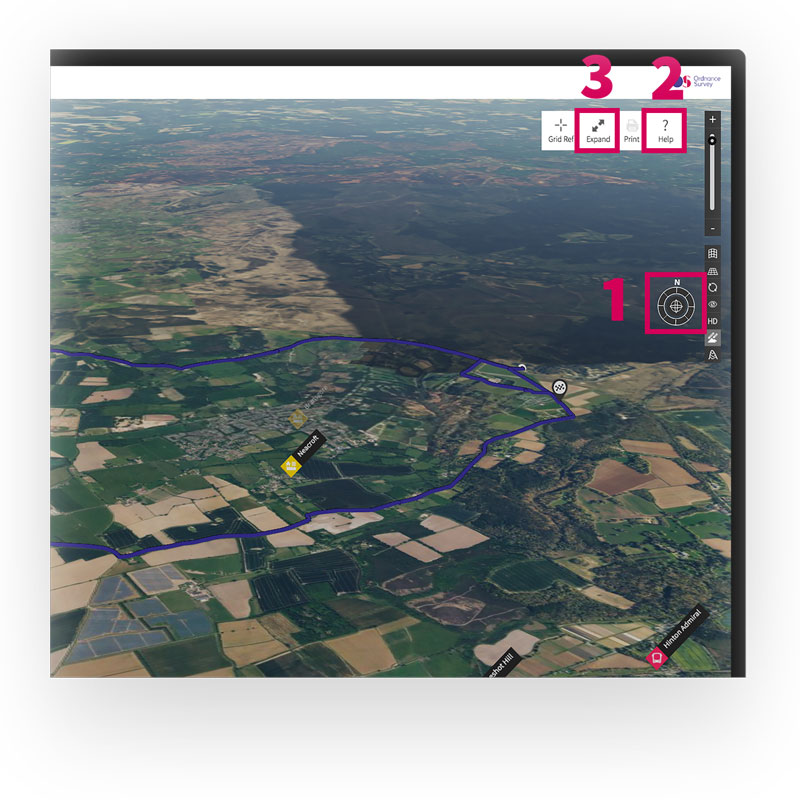 5. Printing routes and maps
Click the print button on the toolbar to print your current viewed map, with or without a route.
Choose a fixed map scale, or fit the map to the page if possible. The area to be printed is shown in the overview. Please note that even if you are trying to print an OS Leisure map, the small preview on the screen will show as standard map, but it will still print a leisure map.
Other print options include A4 or A3 size, landscape / portrait and a route card. Once ready, hit the print button.
You must be logged in to print. Some print features, such as A3 printing, and printing OS Leisure map layers are Premium only. There are no printing functions in the app.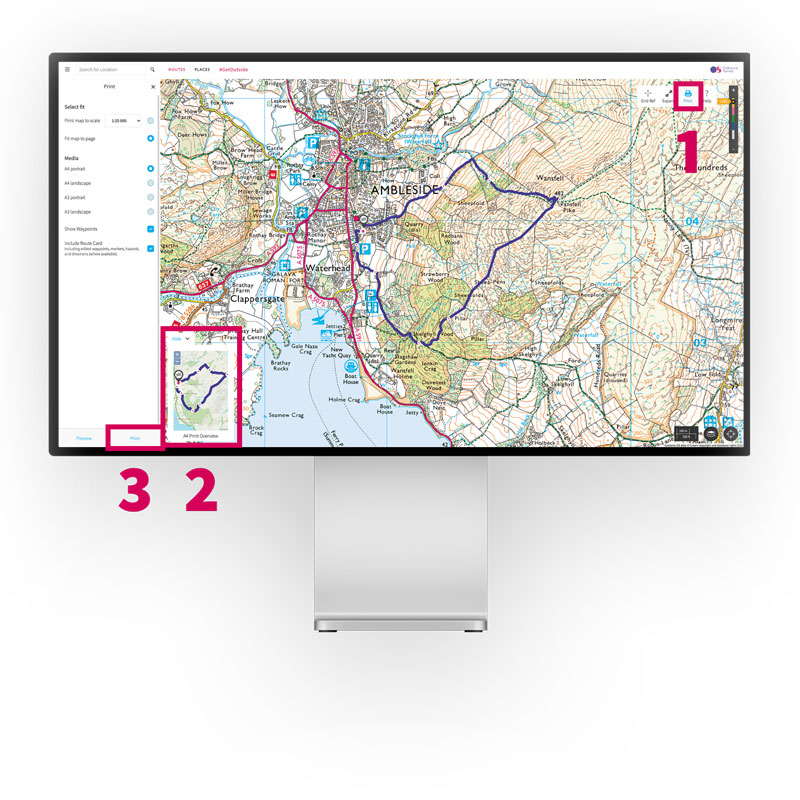 6. Using Maps With No Mobile Signal
Use the OS Maps app to download sections of map for use offline. In the app select Menu > My Offline Maps and click ' Add a custom offline map (Menu > Download offline maps on Android).
Find the area you want to download. Click 'Download' to save the area on screen plus about the same in each direction and name it. You can download as many sections as needed.
Click 'Cancel' once you are finished. Please note that once you have hit the download button, hitting the cancel button will not cancel your request, it just takes you back to the previous screen. You can then find your downloaded maps in 'My Offline Maps'.
If you want to be sure you have all the mapping you need before you lose connection, try turning on 'flight mode' and test.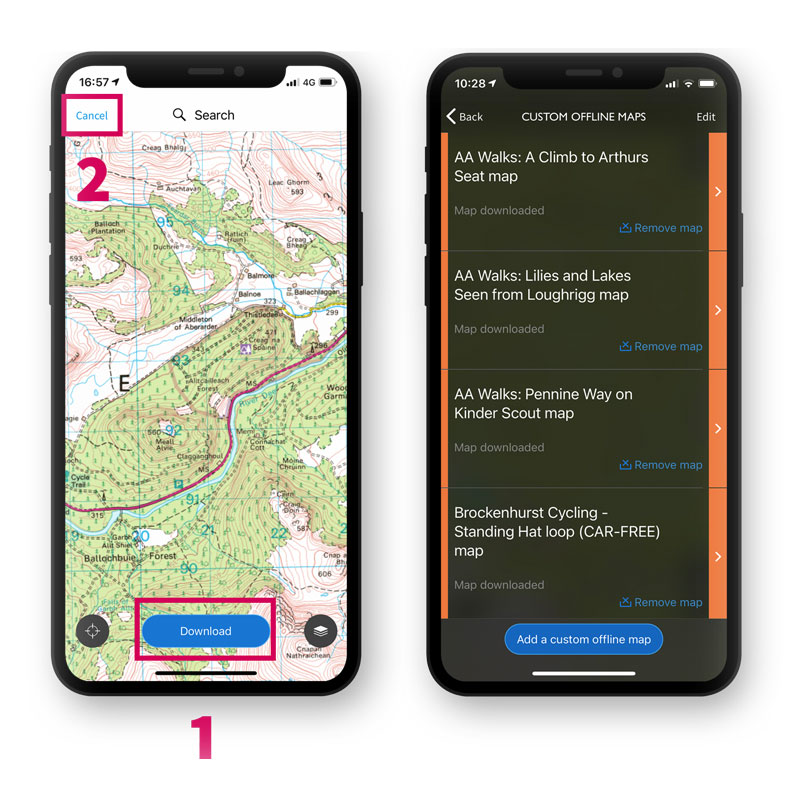 7. Finding routes
Find great new places by searching our routes list, created by both professionals and other OS Maps users.
On web, select 'Routes' > 'Discover routes'. On the app tap the Routes button or select 'Menu' > 'Find Routes'.
From there, filter the types of routes you would like to find by activity type, distance, duration, or rating.
Each pin shows a route start point. Move the map to search the area shown, and use the filters to find a route matching your needs.
Once you have selected a route, a preview of the route will appear with important route information on the route card. On the route card you can find such information as the time, distance, elevation, a description of the activity and more. Hit 'Add to favourites' to add it to a list of your favourite routes which is available on app and web.
To stop searching and hide the route pins close the left panel (web) or click the Routes button (app).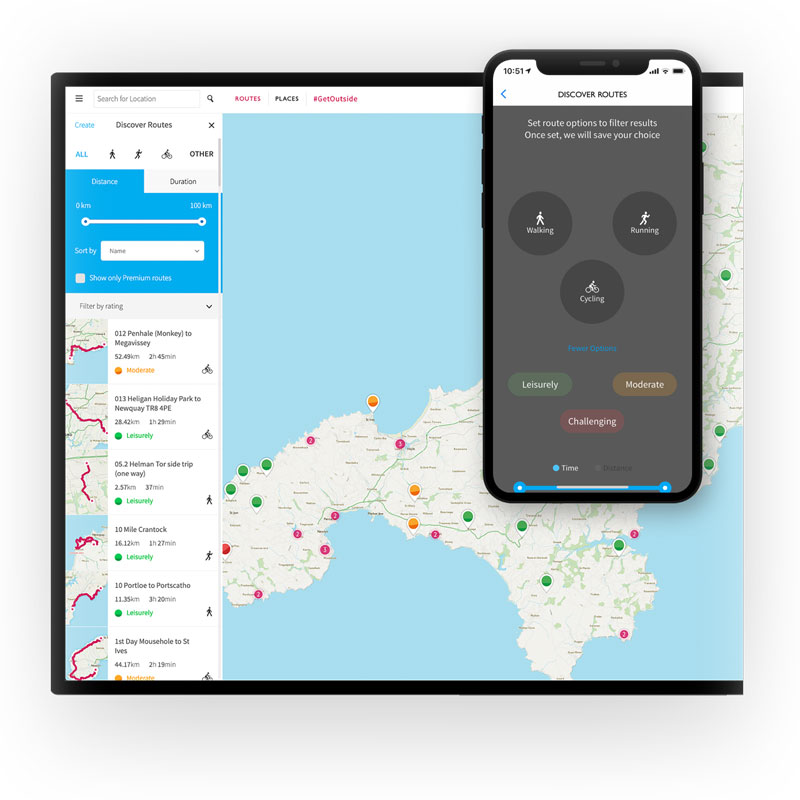 8. Plotting routes
On web Select 'Routes' > 'Create Custom Route'. In the app, tap 'Menu' > 'Plot a Route'.

Click or tap on the map to create a start point, then create your route by adding more points.
Inside National Parks you can use the 'snap-to-path' feature to make route plotting quicker. Just select the 'Offroad Routing' layer on the app or 'Leisure' layer (web). When the magnet icon is selected, your route will automatically 'snap' to the nearest right of way.
Change the route line colour, thickness, and transparency by selecting the 'style' option.
When saving a route, you can choose to make it private or public. If you're making it public, make sure you give it an informative title and description.
'My Routes' shows all your previously saved routes to review or print. (Saved routes are automatically synchronised between browser and app versions.)
'Import GPX' allows you to import a GPX route file from your GPS device or other source. More information on GPX files.
9. Following a route
To follow a route on the app, select a route you have created or discovered and click 'Follow Route'.
The arrow will show your current position and points in the direction you are travelling.
You will receive an 'off course' notification if you have diverted from the path.
10. Record a route
On the app, go to 'Menu' > 'Record a route' (recording starts automatically on Android, on iOS tap 'Record' to get going).
When finished, tap the stop icon / 'Finish' to save the route. Name your route and it will be saved to your routes list, and synchronised with the web version. Make sure both the title and description provide any important route information.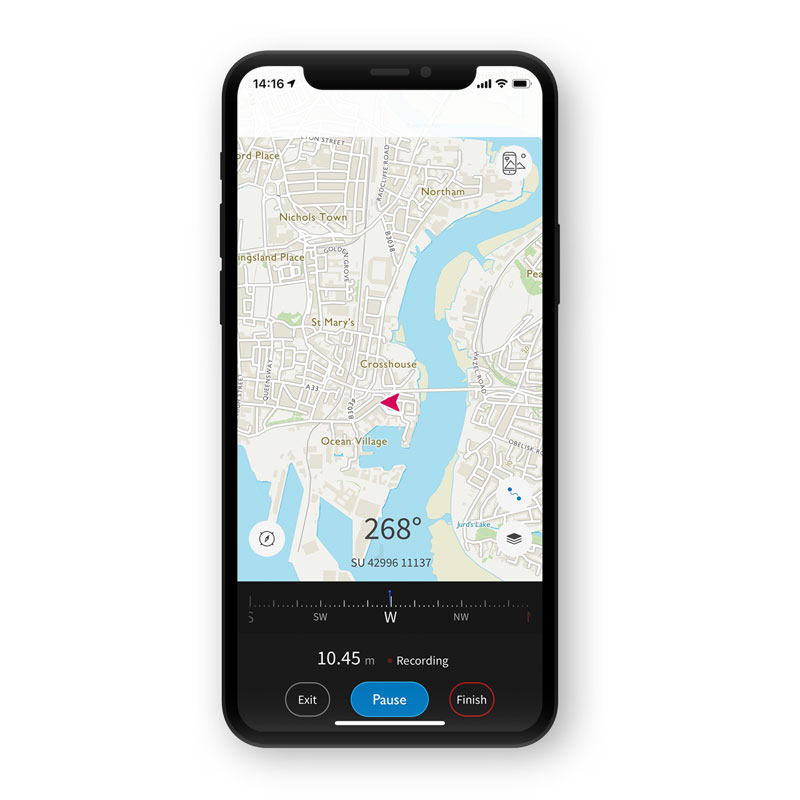 11. Options and personal settings
To change your preferences:
On web, click your name in the top right, then 'Preferences' to open the panel. In app, go to the Menu and under 'My Profile' you will find 'Preferences'.
In this section you can customise your measurement units by choosing imperial or metric, adjust your average walking, running and cycling speeds (for more accurate estimated times) and set defaults for your personalised mapping and route planning.
The time estimates for walking will automatically allow for ascents using Naismith's Rule.
12. Find out more
On Web, in the menu (☰ symbol) go to 'Help and Information' to find the FAQs and more information on OS Maps. In the app select 'Menu' > 'Help' to access the FAQs. You can find more in the OS Maps support hub.
We also have a collection of support videos to help you better understand OS Maps.