OS Mapfinder app
MapFinder is being replaced by OS Maps – our award-winning app giving you brand-new features together with the mapping you love on all your devices.
You can continue to use MapFinder, however we'll no longer be supporting the app, and tile purchases have now been turned off.
Can I transfer my purchases from The MapFinder to OS Maps?
Yes, there are two different options for you to migrate over to OS Maps​: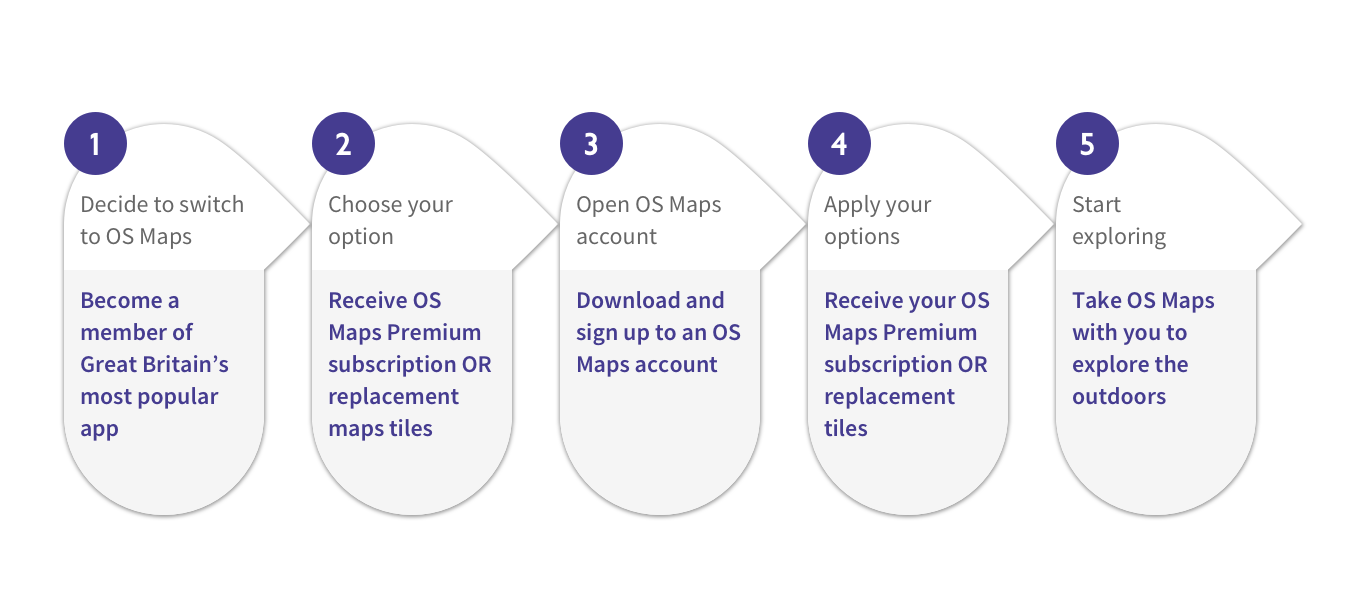 Option 1
A free OS Maps subscription for a period proportional to the amount you have spent in MapFinder. In order to do this, we will need you to tell us the tiles you've previously purchased for us to determine which subscription you qualify for.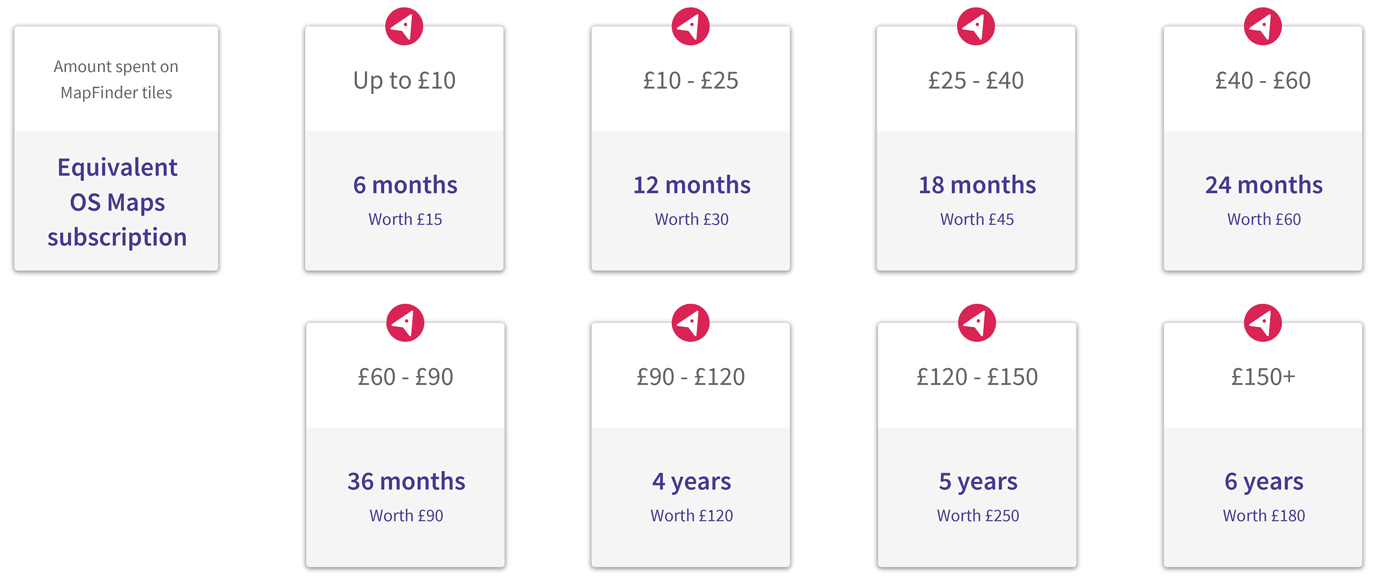 Option 2
You will not have access to any OS Maps Premium features, but we will give you a replacement code for each map that you previously purchased in MapFinder. In order to do this, we need you to tell us the tiles you've purchased, then we will send you relevant codes to unlock those areas for you within your app.
These only allow you to download leisure mapping to view in the OS Maps app – you cannot view these on the web, print from them or use any other OS Maps premium features.
Which option is better for me?
The table below shows you which features can be used across OS Maps depending the option you choose.
| | ​Option 1: Premium Subscription | Option 2: Tile download |
| --- | --- | --- |
| Download and view previously-purchased map areas on mobile only ​ | | ✓ |
| Print unlimited OS Explorer and OS Landranger maps ​ | ✓ | |
| Download and view OS Explorer and OS Landranger maps for whole of GB | ✓ | |
| View all OS Explorer and OS Landranger maps for whole of GB on a computer | ✓ | |
| Access Aerial 3D on Web | ✓ | |
| Use Augmented Reality view to scan the horizon | ✓ | |
| Access Premium routes | ✓ | |
| Use Snap-to-path route planning | ✓ | |
What do I do now?
Please complete the form below so we can help you migrate from MapFinder to OS Maps. To find this webpage on another browser/computer please visit: os.uk/mapfinder
Are you still developing MapFinder?
You can still use an existing copy of MapFinder, but we will no longer be updating it and it has now been removed from the app stores, so you will no longer be able to re-install it. For the best mapping experience, we recommend using OS Maps as it receives regular updates with new features and stability improvements. Please see OS Maps for more information.
Why have you done this?
To keep an app going requires constant development and updates. OS Maps was launched as a replacement for MapFinder six years ago, and since then we have been investing heavily in maintaining and improving it. Since it isn't possible to maintain both apps to the high standard our customers deserve, we are focusing on OS Maps and want to support all MapFinder users to make the transition to it. We're aware it can take time to get used to a new product, so we have decided to offer a free subscription (equal to or greater than the value of tiles purchased on MapFinder) to thank you for your loyalty and to give you the best start on OS Maps. We've also taken onboard your feedback as MapFinder customers and made improvements to OS Maps, such as increasing the resolution of the mapping used.
Why haven't I been contacted about this before?
The way MapFinder was set up meant that you didn't need to create an account with us to purchase tiles –​ we therefore have no record or contact details for MapFinder users and haven't been able to contact all users as we'd have liked. We've learnt from this, so when you create an OS Maps account we'll ask for an email address in order to keep you fully informed and updated with any changes and improvements to OS Maps in the future.