Custom Made maps FAQ
All the help you need to make the best out of your personalised mapping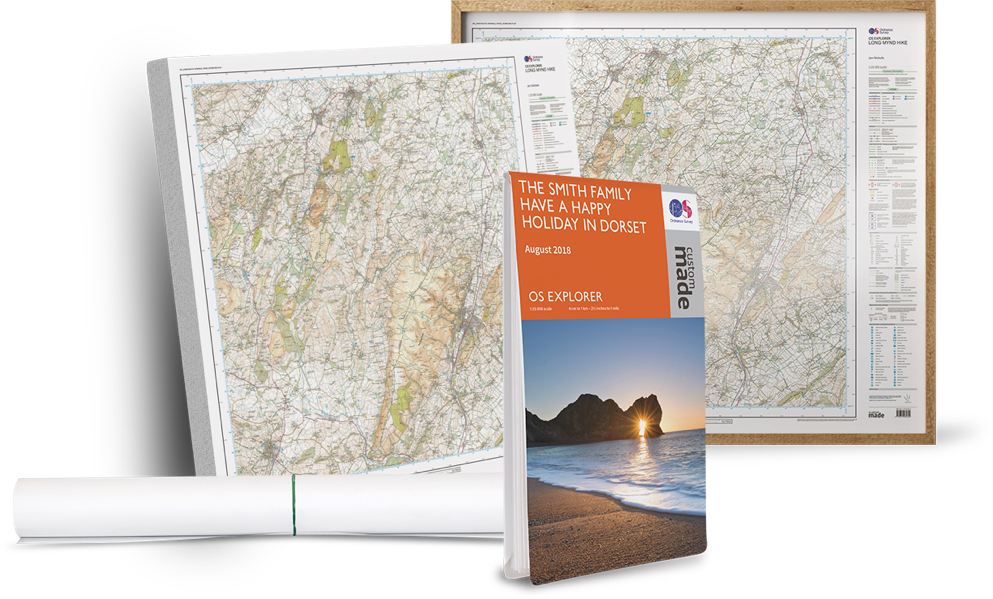 What is Custom Made?
Ordnance Survey Custom Made allows you to create a map especially for you. You can choose any area of Great Britain, select a map scale and then create a personalised cover or choose from one of the framed options. They can be used for both practical maps, where our normal ones might cover two or three different sheets, as a unique display item or as an amazing gift.
Map selection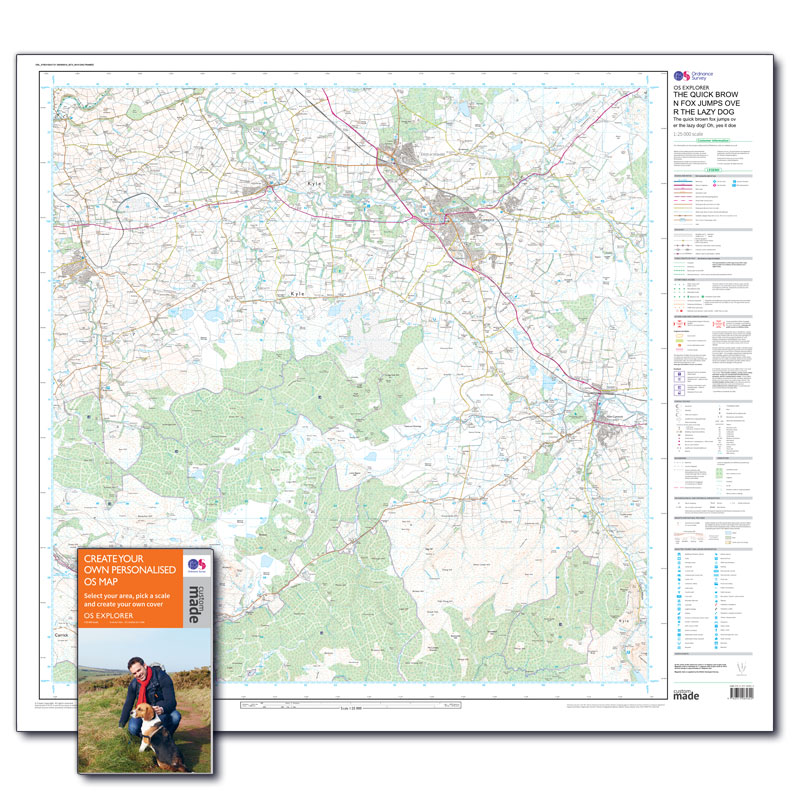 Use the map selector tool to choose your map area. Start by searching for a location, and choose from the list if more than one place matches. The 'Print area' box will show the location found. The white border shows the extent of your map print. The 'Detail of selected area' box shows the center of the map in the scale you have selected.
You can choose from 1:50 000 scale OS Landranger or 1: 25 000 scale OS Explorer map types, but we can only offer maps for Great Britain. The Isle of Man is available in 1:50k scale only.
Drag the Print area to move your selected area. Once you are happy with the area selected, click the 'Lock map' button.
You can now verify you have included everything you need. Drag the small red box in the Print area to see the detail in that area. Use this for checking if a specific path of feature is included or for checking the corners of the map. If you are creating a folded map the exact centre will be in a horizontal and vertical fold, so you may want to move slightly left or right and up or down so that the feature in the centre in not on a fold line.
Maps are printed complete with a legend on the right side, numbered grid lines and magnetic variation for the area, which is updated annually.
Cover and title text
Only the folded maps include a cover. There are five lines of text. The amount of text is limited by the total width, not a specific character count, but we'll warn you if you try to include too much.
The first three 'title' lines will always appear in upper case, while the sub-title lines will appear as you enter them. We may impose some limitations on language used on map covers.
The cover text will also be shown above the legend in the top right on framed, flat and folded maps.
Cover image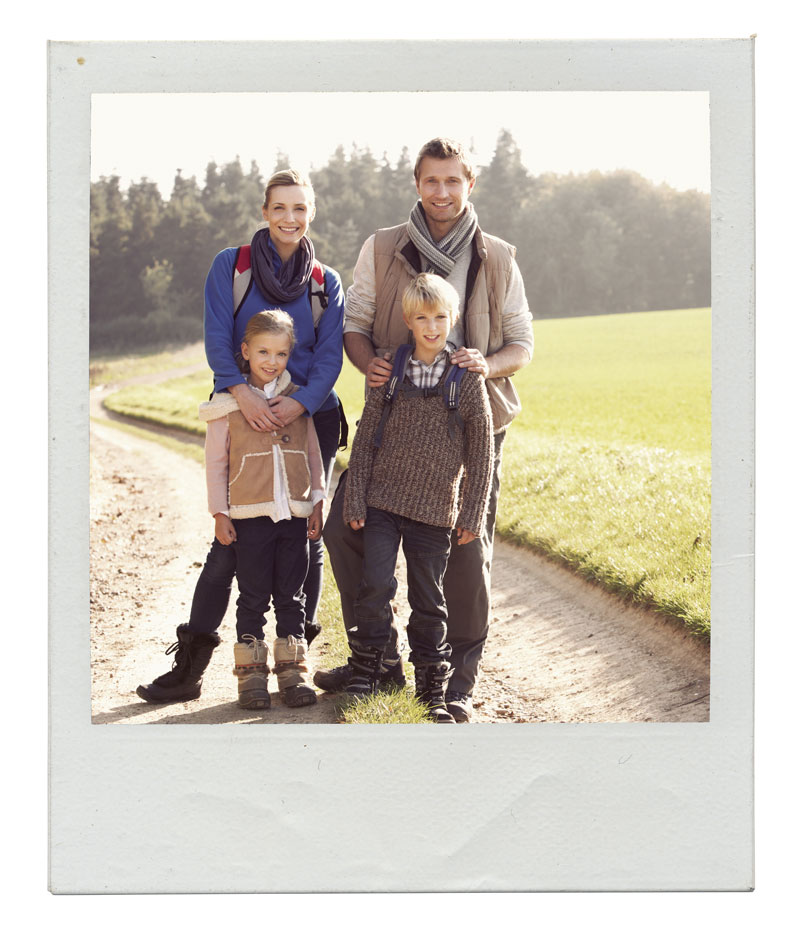 Choosing a photo
Upload a photo you have saved. It must be:
JPEG (extension jpg or jpeg) GIF (.gif) or PNG (.png) file format
Larger than 200 Kilobytes and less than 10 Megabytes
Images smaller than 200 kilobites are usually loo low quality for printing. For larger files, you can reduce your image size using your favourite editor. You can also edit your photo for brightness, contrast and colour before you upload it.
Portrait images work best, but don't worry about the exact dimensions – you will get the option to crop the image in the next stage.
If you want to show multiple images, you can create a collage of photos using your favourite image editor. Ensure the final version is approximately 1:1 size ratio in sufficient resolution.
Once you are happy with your image, use the 'upload' button to select your image.
See our terms and conditions for some restrictions on images that can be used.
Cropping your image
In the crop tool, drag the corners of the highlighted area to select what will appear on the cover. Parts outside the dotted white lines show areas that may be trimmed during printing.
Image upload problems
The most common reasons for compatible images failing to upload is that cookies have been disabled. Please change your browser setting to allow cookies, at least for the duration of your purchase.
Stock Images
If you prefer, you can use one of our stock images to illustrate the cover.
Canvas and framed products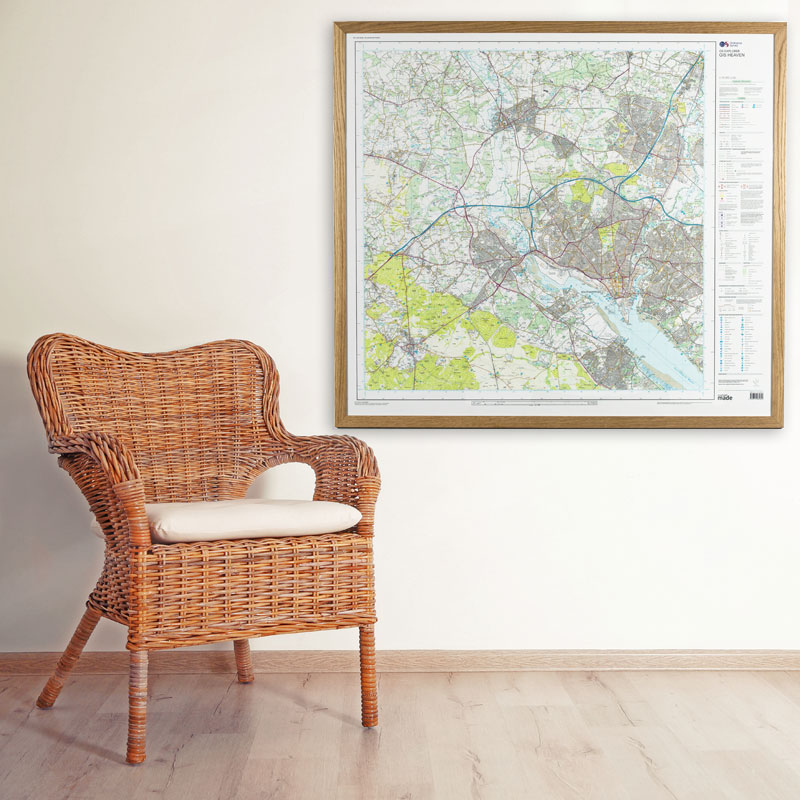 Our mounted and framed maps are hand-assembled in the UK using specialist framing techniques and arrive ready to hang, complete with a hanging wire.
Framed paper maps are cold mounted on to a backboard. They have a 28mm (1 inch) real wood moulding and are glazed with a super-clear acrylic that's as clear as glass but lighter and less fragile.
Canvas maps are printed on an oversized canvas and hand-stretched over a wooden frame, so the edges are plain white and are around 18mm (3/4 inch) deep.
Framed canvas maps have a 12mm (1/2 inch) real wood moulding added and are also 18mm deep.
Canvas and framed maps take 7-10 working days for delivery, and are despatched through Parcel Force 48 hour delivery. They are packed securely in well-padded boxes. The boxes are large at 1170mm x 990mm x 130mm, so please ensure you have the space if you plan to collect them from your local delivery office.
Dimensions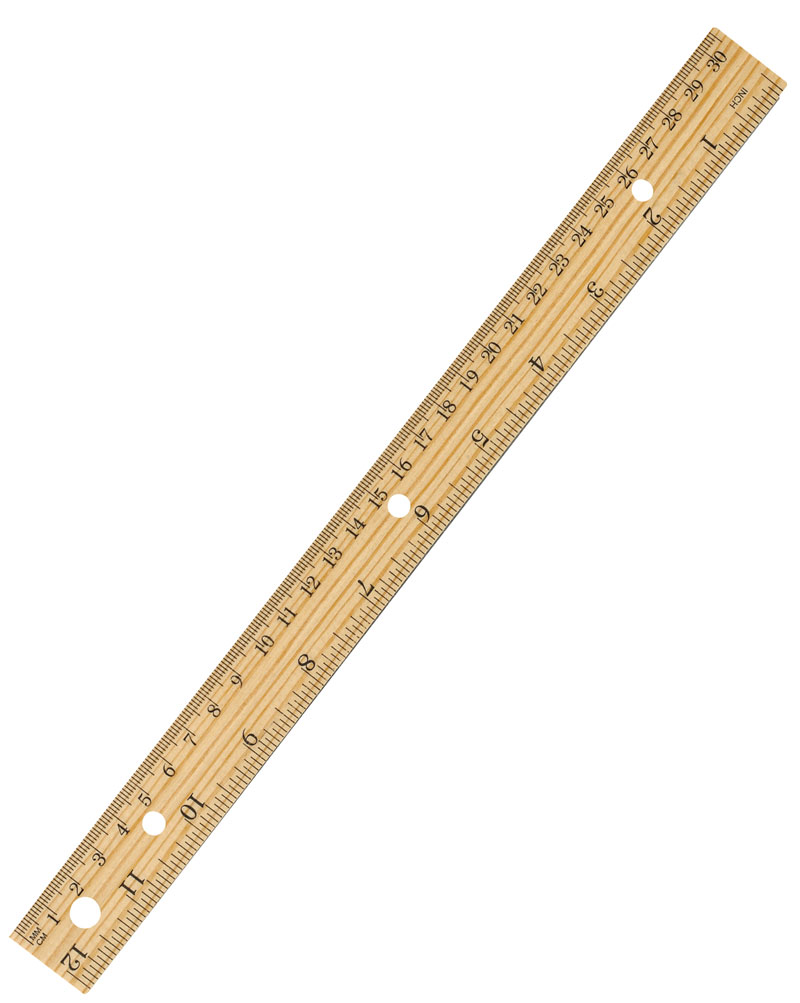 Framed and canvas:
Canvas (unframed):  1016 x 889 x 18mm (40 x 36 x ¾ inches) w x h x d
Canvas (framed):  1044 x 944 x 18mm (41 x 37 x ¾ inches) w x h x d
Paper (framed):  1044 x 944 x 38mm (41 x 37 x 1 ½ inches) w x h x d
Due to the hand made nature of the canvas and framed maps some small variations in size are normal.
Folded maps:
Mapping area: 80 x 80 cm
Total unfolded size: 100 x 89 cm
Folded size: 22.5 x 13 x 1 cm
Flat maps:
Mapping area: 80 x 80 cm
Unfolded size: 100 x 89 cm
Area covered by maps:
OS Explorer Map: 20 x 20 km
OS Landranger Map: 40 x 40 km
Framing and laminating of flat paper maps
If you intend to laminate your map or have it framed elsewhere, please be aware that Ordnance Survey Custom Made maps are printed using 'Toner Crystal Point' technology. This enables the fine detail to be achieved that is not possible using inkjet on uncoated map paper.
Applying heat or solvents to the printed product again will 're-activate' the toner causing the image to run and spread so we recommend that you:
Don't use hot mount framing processes, don't hot dry mount the map
Don't encapsulate or laminate the map using a hot heat process
Don't use adhesives on the map
Hinge mounting or dry, cold mounting using acid free adhesive and acid free board is recommended.
Delivery
Custom Made maps ordered before 2pm on a working day are printed the same day and posted the next day to allow for the covers to be attached. Orders placed after 2pm or on a non-working day will start printing on the next working day.
For folded and plain paper maps, standard postage via Royal Mail will take 2-5 working days from despatch. If you choose the courier delivery order, it will be delivered with 48 hours of despatch, and will need to be signed for.
Framed maps can take 7-10 days to print, frame and deliver, and are always sent by courier.
Errors and returns
OS Custom Made maps are made to your specification. Therefore they cannot be returned or refunded unless they are delivered damaged or with printing errors. This includes:
Where you have selected the wrong area or map scale. Please double check the map location and scale shown in the previews before ordering.
Where you have made an error in the titles. Titles will be printed exactly as you have entered and shown in the preview. We don't correct spelling before printing.
Where the wrong image or a poor quality image is used on the cover. While we always try to print the cover images as clearly as possible, where the image uploaded is of low quality this will appear the same on the cover. Please check your images before uploading.
If your Custom Made map is damaged or not as ordered, please contact our Customer Services Centre using our contact form. Please quote your order details and order number. We will contact you to give you the option to either receive a full refund or a replacement.
Unfortunately, we will be unable to refund you if the map was damaged after it was received, such as if you use a hot lamination process.
You can see our full Terms and Conditions here.
Design your Custom Made OS Explorer Map or OS Landranger Map.